As you might have noticed, Nicola Cruz is taking over of late. As soon as his album dropped on October 30, he was off to the races, wowing crowds from north to south, east to west, with his incredible live set.
Now he's taking the show on the road again, with shows all across Europe and North and South America on the horizon. Including a stop at Sonar in Barcelona in June. Catch Nicola in April & May in these cities:
22/04 Music Box - Lisbon, Portugal
23/04 Periferias - Huesca, Spain
26/04 Cross Club - Prague, Czech Republic
27/04 Minimuzikhol - Istanbul, Turkey
28/04 Doof Festival - Tel Aviv, Israel
29/04 Breakfast Club - Tel Aviv, Israel
03/05 Chalet - Berlin, Germany
04/05 Bee-Flat - Bern, Switzerland
05/05 Festival Nuits Sonores - Lyon, France
06/05 Club Charco - Madrid, Spain
08/05 Souk - Paris, France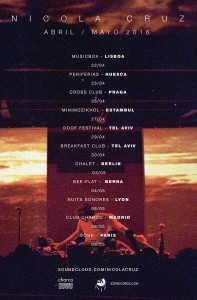 Still don't have his album? Get in here.