AYA Records, our new imprint, transports listeners to Andean Amazonia with its first release, Respira, by Mateo Kingman.
Kingman, 24, is a singer-songwriter of Ecuadorian Amazonian music that fuses traditional Latin American sounds with hip-hop, rock, and pop. Respira, his debut album, is an energy overload that sings of biodiversity, sketching natural landscapes of magic and water colors. It is infused with sounds guiding the listener from the jungle and to high mountains, between the tangle of trees and the meandering sound of the wind on the moors.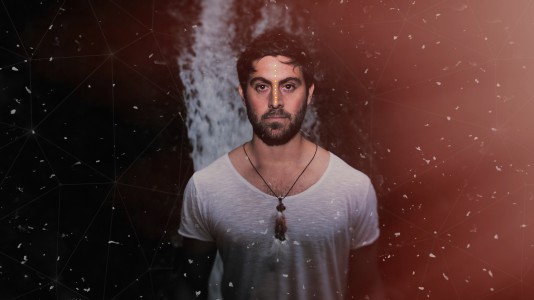 Kingman's childhood was spent in Macas, a small town in the Amazon, where he was exposed to the cultural richness of the Shuar community and Amazonian mythologies. There his feet grew calloused on mountain grass, there he dove in the Amazonian rivers searching for ancient sounds of water devils. He walked narrow, muddy roads, hearing the cries of the wild, of the Amazonian nymphs, of the dense green. In this environment, Kingman began experimenting with the guitar, drums, and traditional instruments. He began exploring the universal nature of music, which ties the finite and small human condition, full of passions hard to understand, with the cosmic, the chaotic, and the infinite.
After a brief interlude pursuing semi-professional sports (100 meter hurdles), Kingman moved to Quito in 2012 and launched his music career. Just a few short years later, he finds himself at the forefront of the Latin American music scene emerging out of Ecuador, both as a soloist and a member of the band EVHA.
Respira exemplifies this sound, fusing electronic with organic and acoustic in order to create a musical oxymoron: chaotic harmony. Inspired by artists such as Simón Díaz, Atahualpa Yupanqui, Violeta Parra, Juaneco y Su Combo, Control Machete, Bomba Estereo, Sidestepper and Café Tacvba, the album combines samples and synthesizers, with organic sounds he records himself in rivers, forests, and mountains. Kingman's lyrics connect the concrete jungle with the past of four million years of human life historically tied to the natural world. His soundscapes are full of the spiritual energy of all that is good, of what makes us dance to scare away the demons. His fiery voice constantly stabs at the melodies, spilling out the verses with rap and timbres of traditional songs.
Bandcamp | Apple | Itunes | Spotify | Deezer
Amazon US | Amazon UK | Google Play | Qobuz